HiSuite by Huawei 'ANDROID Smart Device Manager'





Features






Application Management


Quickly view, install, or uninstall applications.One-key update all your applications.

Screen Show


Real-time display of device's content on PC, zoom, rotate, adapt to computer screen.One-key capture device's screen, no longer to worry about missing moments.

Music Management


Easily read, add, delete or modify music and playlists from SD card.Export music(s) from SD card to PC.Compatible with iTunes. (Easily import iTunes music resources to SD card) Listen to selected music.Set music(in SD card) as phone ringtone.

Backup and Restore


Backup contacts, messages, calendar, media files and other information to PC.Restore PC backup file to device.Backup and restore applications.

SMS Management


Send, receive, or manage messages and MMS on PC.Export messages to PC.Send message to multiple contacts.

Update


Push latest system software version to device, easy download and upgrade options. Automatically updates on user confirmation.Push latest HiSuite version to PC, easy download and upgrade options. Automatically updates on user confirmation.

Contacts Management


Easily add, modify, or delete contacts. (Support multiple accounts)Easily import contacts from iPhone, Nokia devices, and Gmail to a Huawei device.

Calendar Management


Easily add, delete, edit calendar on device, and sort calendars.

Synchronize


Synchronize contacts and calendars with Microsoft Outlook 2003, 2007, or 2010.Synchronize contacts with Microsoft Express.Synchronize groups with Microsoft Outlook 2007, or 2010.

Wi-Fi Connection


Connect your device with PC through Wi-Fi to manage data. Encrypted or not via Wi-Fi connection. Encrypted one can improve security of data.

Picture Management


Easily read, delete or rotate pictures on storage card.Set picture as device wallpaper.Easily export pictures from storage card and add pictures to device.

Emotion UI Tool


Edit, dynamic preview and design your own special theme, include from PC or device.Pack theme to phone and apply.

Storage Card File Management


Easily copy, paste or move file on storage card, just like operate on PC.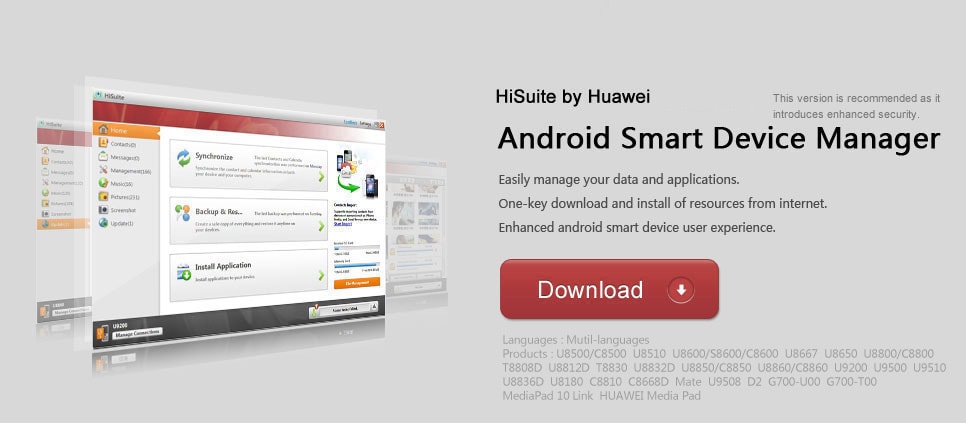 Click Here to Download
Br.,